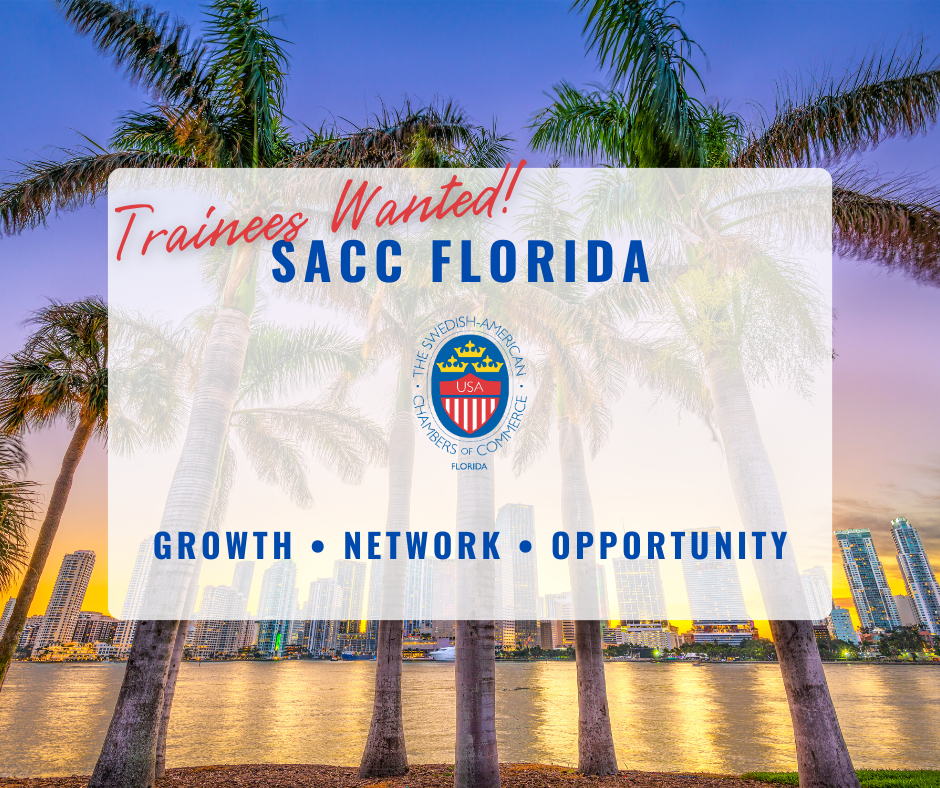 Do you or someone you know want the experience of a lifetime? If so, don't miss the opportunity to become SACC Florida's next trainee!

The Swedish-American Chamber of Commerce of Florida (SACC Florida) has the reputation of being a fast-moving and energetic chamber. SACC Florida has an extensive and impressive network that includes maritime, business accelerators, venture capitalists & private investors, CEOs and founders of industry-leading companies, executive search firms, law firms, real estate, insurance, and communication agencies. In addition, we provide access to an international network of chambers of commerce and business associations.

Job Description

TASKS AND DUTIES WILL INCLUDE BUT ARE NOT LIMITED TO

• Promoting the Chamber and Chamber events through marketing activities
• Update the Chamber databases
• Help to provide general office administration
• Support our treasurer with Chamber financial management
• Organizing Chamber events, including coordinating volunteers for these
• Attending Chamber specific networking events • Assisting in recruiting new Chamber members
• Assisting in membership program development
• Preparing board meetings
• Ensuring that the Chamber website is up to date
• Managing social media accounts
• Write and update procedures (office manual, etc.)
• Take an active part in a project we do together with the Swedish company Tillväxtverket. The goal is to be a matchmaker for new Swedish tech companies and potential customers in Florida.

Requirements

Higher education within Business, Economics, Marketing, or Project management
• Related work or extracurricular experience
• Outgoing personality, salesmanship, and initiative skills
• Leadership and teamwork skills
• Strong analytical skills
• Interpersonal skills/conflict resolution skills
• Excellent verbal and written skills in Swedish and English
• Swedish or Finnish citizenship
• Drivers license

Benefits
There is no monetary compensation for the intern, as SACC Florida is a non-profit organization. However, as an intern abroad you are entitled to apply for scholarships. Some Swedish students, depending on their university program, might also be eligible to receive student aid from CSN.