As the owner and president of Fine Line Marine Electric, I am pleased to offer full electrical services for my marine clients. Fine Line Marine Electric provides innovative solutions for the power needs of mega yachts and commercial vessels, including, but not limited to; control, navigation, surveys, shore power, automation, underwater lights, and lighting refits. We provide engineering and installations of major electrical systems on board commercial cruise ships .
As a lifelong mariner, I found myself visiting the "yachting capital of the world" also known as Fort Lauderdale, Florida. This visit, nearly 20 years ago, showed me the exciting opportunities that exist within the maritime industry. Having a background in electronic/electrical engineering, it was natural that I would be drawn to these fields in the industry that I love.
Each day brings new challenges and I enjoy finding solutions to complex problems. Whether upgrading old systems into modern technology or having to keep a classic on the water, each challenge is fulfilling in it's own way.
The new technologies that are constantly emerging keep Fine Line inspired to learn and implement new electrical strategies in many yacht applications. Being immersed in the marine electrical environment also encourages me to create my own innovative plans for future use in the field. We encourage our clients to improve their efficiency and to reduce their carbon footprint by transitioning to LED lighting and newer battery technology.
The Covid-19 pandemic has been challenging for many sectors across the globe, however, the yachting industry has maintained its popularity. According to statistics, yacht sales have actually increased compared to previous years during this time. As many people live aboard, we were deemed an essential business and remained open to provide continued support to our clients.
Lauderdale Marine Center, the largest repair facility in North America, has been our home for the last five years. It has a large presence in the Florida International Boat Show and we look forward to supporting them.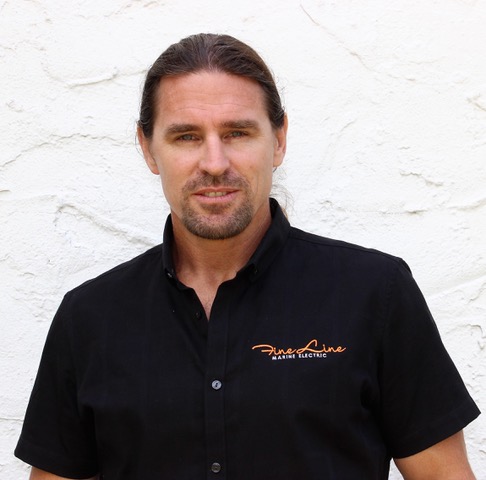 Petrus Sundevall
President
Fine Line Marine Electric, Inc. 2001 SW 20th Street, STE121 Fort Lauderdale, FL, 33315
Tel: (888) 326-6692 ext. # 1 Fax: (954) 204-3283
Cell: (954) 562-1515

Petrus@flmelectric.com
www.finelinemarineelectric.com